About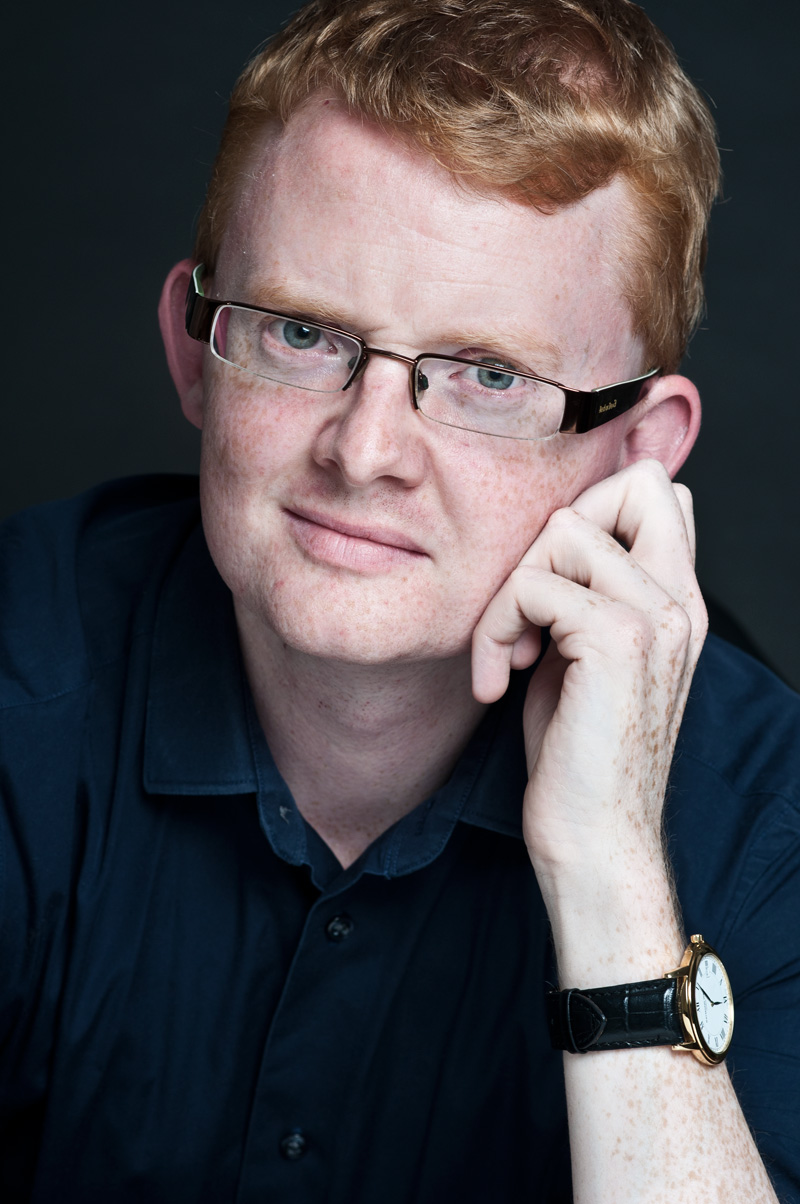 Scott has been performing as a musician and singer since childhood, but did not come from a musical background.  The only musician of any note on either side of his family was his great grandfather, who when he wasn't running a dairy farm in Western Australia, played piano in silent movies.  Farming and literature are common themes in his ancestry, and a famous name from his father's side is another well-known red-head, George Bernard Shaw, who was Scott's great, great, great, great uncle.  On his mother's side, more distantly, he is related to Sir Walter Scott. Scott grew up in suburban Perth, Western Australia, the only child of a librarian and a builder.  He took piano and clarinet lessons as a child and he became reasonably proficient in both, but it was always his singing that stood out. 
The first step towards his career began in a music lesson at school at the age of seven – his teacher wrote a note to his mother with the immortal words "Scott has the potential to use his voice as an instrument" and an offer to help with taking things further. From there Scott joined the St George's Cathedral Choir in Perth, and began a long journey to where he is now. Like many musicians, Scott has had an eclectic career path, and has tried his hand at making fish and chips, selling suits, and acting in television commercials.  A business career also beckoned for a time – he was in senior management for a prestigious London publishing firm for several years, in charge of advertising sales and development, complete with staff, business trips, company credit cards and expensive ties.  Music never left his mind however – not to mention the lure of a semi-regular sleep-in – and he gave up the rat race in 2008 to come to the Netherlands and take up singing full-time.  Since then he has completed another music degree, and performs regularly all over Holland and Belgium.
Scott is intent on teaching the Dutch how to make a decent cappuccino, and to drink tea with milk.  He recommends Twining's Lady Grey tea, which he buys in bulk whenever he's in London.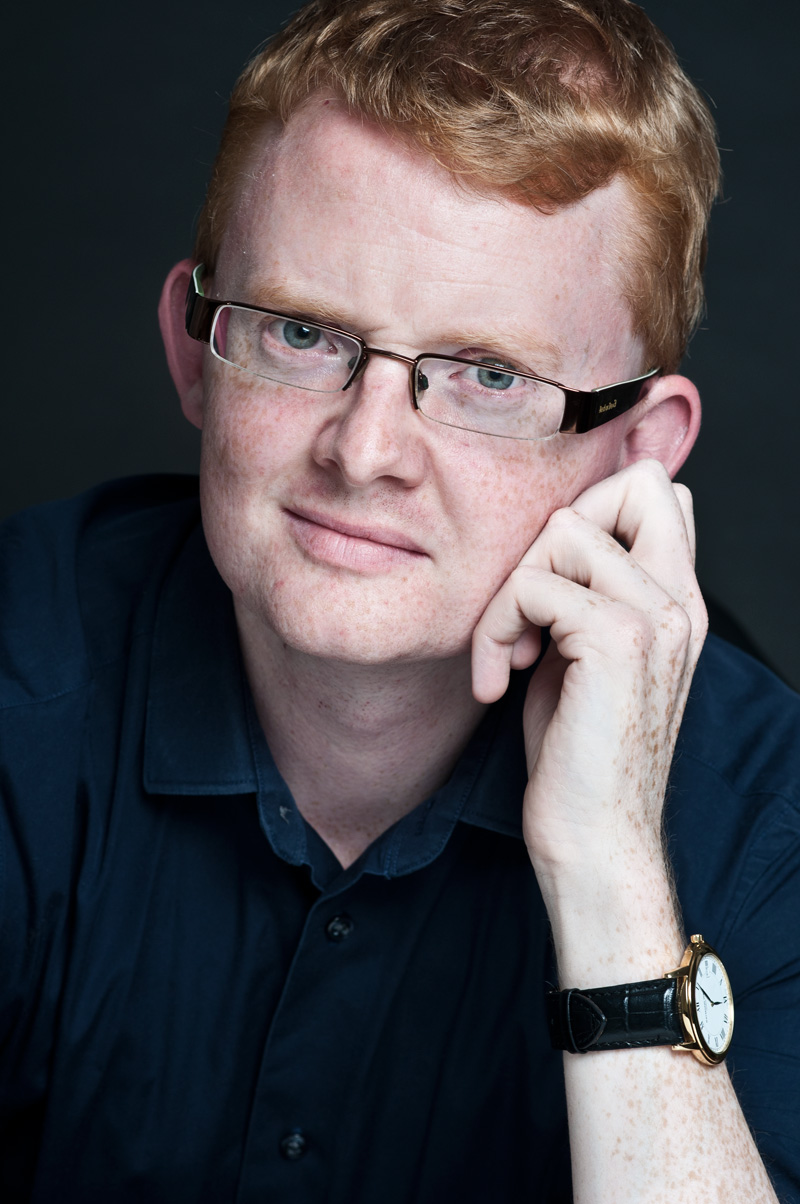 Obwohl nicht aus einer musikalischen Familie stammend, tritt Scott Wellstead seit seiner Kindheit regelmäßig als Instrumentalist und Sänger auf. Der einzige Musiker unter seinen Vorfahren war sein Urgroßvater, der neben seiner Haupttätigkeit als Landwirt im Westen Australiens Stummfilme am Klavier begleitete. Landwirtschaft und Literatur ziehen sich wie ein roter Faden durch seine Familiengeschichte: Väterlicherseits ist er mit einem anderen bekannten Rothaarigen verwandt, nämlich George Bernard Shaw, seinem Urururgroßonkel, während er mütterlicherseits ein ferner Verwandter Sir Walter Scotts ist.
Scott wuchs in der Vorstadt von Perth im Bundestaat Western Australia als einziges Kind einer Bibliothekarin und eines Bauarbeiters auf. Als Kind lernte er Klavier und Klarinette, aber besonders wichtig war ihm immer das Singen.
Der erste Schritt in Richtung Sängerlaufbahn fand im Musikunterricht im Alter von sieben Jahren statt: Sein Lehrer schrieb an seine Mutter "Scott hat das Potential, seine Stimme als Instrument einzusetzen" und bot an, mit dem Weiterkommen zu helfen.Daraufhin trat Scott in den St George's Cathedral Choir in Perth ein und begann damit eine lange Reise, die ihn zu dem gemacht hat, der er jetzt ist. Wie viele andere Musiker auch hatte Scott einen etwas unsteten Werdegang. So arbeitete er im Fish-and-Chip-Shop, verkaufte Anzüge und wirkte in Fernsehwerbespots als Schauspieler mit. Auch eine Karriere in der Wirtschaft war zwischenzeitlich eine Option, da er auch einige Jahre als Manager eines Londoner Verlags arbeitete. Die Musik ließ ihn aber nie ganz los, sodass er bald sein Büroleben aufgab, um nach Europa zu kommen und sich ganz dem Singen zu widmen. Er absolvierte einen weiteren Hochschulabschluss in Musik und tritt jetzt regelmäßig als Solist in Deutschland und den Niederlanden auf.
Scott ist fest davon überzeugt, dass die Welt durch Cricket, guten Cappuccino und Tee mit Milch erheblich zu verbessern wäre. Er empfiehlt Twining's Lady Grey Tea, den er immer in großen Mengen kauft, wenn er in London zu Besuch ist.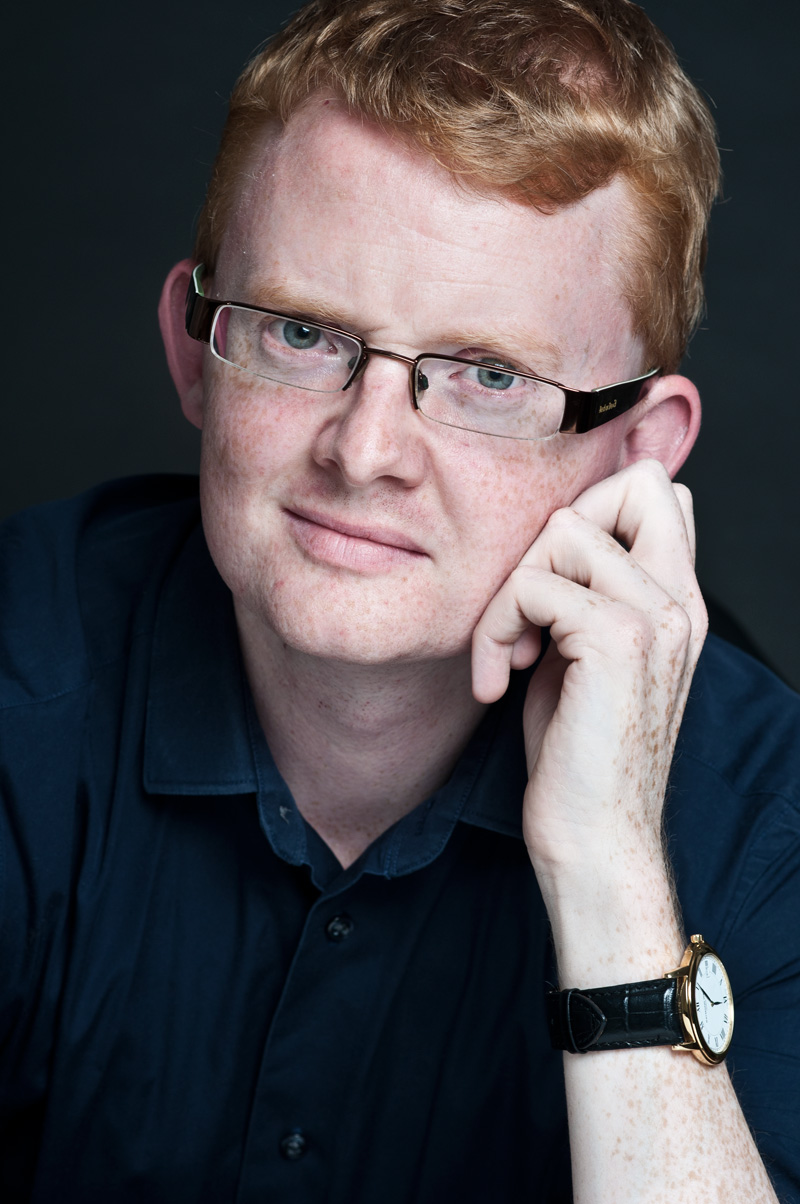 Scott treedt al van jongs af aan op als musicus en zanger, ook al komt hij niet uit een muzikaal nest. De enige, noemenswaardige muzikant uit zijn familie was zijn overgrootvader, die naast het runnen van een melkveebedrijf in West-Australië, optrad als pianist bij de vertoning van stomme films.Landbouw en literatuur zijn terugkerende thema's in zijn familiegeschiedenis. Nog een welbekende roodharige aan vader's kant is George Bernard Shaw, die Scott's oud-, oud-, oud-, oudoom was. Aan moeder's zijde, met iets meer afstand, is Scott verwant met Sir Walter Scott.
Scott groeide op in de buitenwijken van Perth in Western Australia, als enig kind van een bibliothecaresse en een projectontwikkelaar. Als kind bekwaamde hij zich vrij goed tijdens piano- en klarinetlessen, maar wat werkelijk opviel was altijd zijn zang.
De eerste stap richting een professionele carrière werd al op zevenjarige leeftijd gezet, toen zijn toenmalige muziekjuf een briefje aan zijn moeder schreef met de woorden "Scott heeft het in zich zijn stem als instrument te gebruiken" en daarbij aanbood hem verder te helpen. Na deze gebeurtenis heeft Scott zich aangesloten bij het St George's Cathedral Choir in Perth, het begin van een lange reis die hem bracht waar hij nu is. Zoals veel musici heeft Scott een gevarieerde loopbaanontwikkeling gehad, van het bakken van 'Fish and Chips' tot het verkopen van pakken en zelfs het acteren in verschillende televisiereclames. Daarnaast lokte een carrière als zakenman een tijdje en heeft hij enkele jaren gewerkt als senior manager voor een Londense uitgeverij. Compleet met personeel, kostenrekeningen, zakenreisjes en dure stropdassen. Maar de muziek bleef in zijn gedachten -en bovendien de verleiding van semi-regelmatig uitslapen- en daarom zegde hij zijn baan op om voortaan al zijn tijd aan zingen te kunnen besteden. Sindsdien heeft hij verschillende muziek diploma's behaald en treedt hij regelmatig op in Nederland en Duitsland.
Scott is ervan overtuigd dat de wereld er beter uit zou zien als iedereen meer cricket zou spelen, een goeie cappuccino zou leren maken en thee met een beetje melk zou drinken. Twining's Lady Grey tea is zijn favoriet, hij kan het iedereen aanbevelen. Hij neemt deze dan ook altijd en in grote getale mee als hij weer eens in London is geweest.
Biography
Born and raised in Australia, Scott has been performing as a professional singer since childhood. His performance repertory extends from opera, oratorio and recital to Renaissance polyphony and contemporary choral repertoire, and he has performed regularly in Australia, the United Kingdom, France, Germany and the Netherlands. He began his career as a boy soprano at the age of eight in Perth, Western Australia, and from there moved to Sydney, where he studied at the Sydney Conservatorium.
He continued his studies in London through the English National Opera Baylis programme under Mary King, during which time he sang regularly as a recitalist, and presented a variety of operatic roles including Tamino in Die Zauberflöte, Vašek in The Bartered Bride and Remendado in Carmen, for companies in both the United Kingdom and France.
After completing his studies at the Royal Conservatory in The Hague he moved to Düsseldorf, and is now regularly engaged to perform lead tenor oratorio roles for groups in both Germany and The Netherlands, in particular the Bach Passions and the Weihnachts-Oratorium, Händel's Messiah, Britten's St Nicolas Cantata, and Haydn's The Creation. He has performed and recorded with groups such as the Netherlands Bach Society, Chorwerk Ruhr, the Kölner Vokalsolisten, Laurens Collegium and EuropaChorAkademie, and divides his time between Germany, the Netherlands, Australia and the United Kingdom.
Scott Wellstead wurde in Australien geboren und tritt seit seiner Kindheit als professioneller Sänger auf. Sein Konzertrepertoire umfasst sowohl Oratorium, Lied und Oper als auch die Musik der Renaissance und Zeitgenössische Kompositionen. Regelmäßige Konzertauftritte führten ihn bisher nach Großbritannien, Frankreich, Deutschland, Australien und in die Niederlande. Seinen sängerischen Werdegang begann er im Alter von 8 Jahren als Knabensopran in Perth, Western Australia. Von dort ging er zunächst nach Sydney, um dort am Sydney Conservatorium Gesang zu studieren.
Er setzte seine Studien fort mit dem Baylis Programme unter der Leitung von Mary King an der English National Opera in London. Im Rahmen dieser Initiative trat er häufig als Liedinterpret auf und übernahm mehrere Opernrollen, wie z.B. Tamino (Die Zauberflöte), Vašek (Die verkaufte Braut) und Remendado (Carmen), an Häusern in Großbritannien und Frankreich.
Er vervollständigte seine musikalische Ausbildung mit einem zusätzlichen Studium am Königlichem Konservatorium in Den Haag. Regelmäßig tritt er mit den großen Tenorpartien der Oratorienliteratur auf, insbesondere mit den Passionen und dem Weihnachtsoratorium von Bach, dem Messias von Händel, der St. Nicholas Cantata von Britten und Die Schöpfung von Haydn. Er hat bei Konzerten und CD-Aufnahmen mit namhaften Ensembles wie der Nederlandse Bachvereniging, dem Chorwerk Ruhr, dem Rotterdam Symphony Chorus, den Kölner Vokalsolisten und der EuropaChorAkademie mitgewirkt und verbringt den Großteil seiner Zeit in Deutschland, den Niederlanden, Großbritannien und Australien.
De in Australië geboren en getogen Scott treedt al meer dan vijfentwintig jaar op als professioneel zanger. Het repertoire waar hij mee optreedt, reikt van opera, oratorium en liedrecital tot Renaissance polyfonie en hedendaags koorrepertoire. Hij heeft menigmaal opgetreden in Australië, het Verenigd Koninkrijk, Frankrijk, Duitsland en Nederland. Hij begon zijn carrière op achtjarige leeftijd als jongenssopraan in Perth, west-Australië. Later verhuisde hij naar Sydney en studeerde daar aan het Sydney Conservatorium.
In 2002 verhuisde hij naar Londen om daar zijn studie te vervolgen bij Mary King, zijn docente bij het Engelse Nationale Operaprogramma Baylis. Gedurende die tijd trad hij regelmatig op in recitals en zong verschillende operarollen, zoals Tamino in Die Zauberflöte, Vašek in The Bartered Bride en Remendado in Carmen bij gezelschappen in het Verenigd Koninkrijk en Frankrijk.
Tussen 2008 en 2011 rondde hij zijn studie af aan het Koninklijk Conservatorium te Den Haag, en tegenwoordig wordt hij vaak gevraagd als tenorsolist voor oratoria in Duitsland en Nederland, in het bijzonder de Passies en het Weihnachts-Oratorium van Bach, Händels Messiah, de St Nicolas Cantata van Britten en Die Schöpfung van Haydn. Verder heeft hij opgetreden en opnames gemaakt met gezelschappen als de Nederlandse Bachvereniging, het Egidius Kwartet, Rotterdam Symphony Chorus, Laurens Collegium en EuropaChorAkademie, en verdeelt zijn tijd tussen Duitsland, Nederland, Australië en het Verenigd Koninkrijk
Agenda
OCTOBER
Tenor Soloist - J.S. Bach: Cantata #80
1-Oct, 11:00

1-Oct, 18:00

Lukaskirche, Bonn

AntoniterCityKirche, Köln

Group:

Rheinisches Barockorchester and Bach Verein Köln

Conductor:

Thomas Neuhoff
Chorwerk Ruhr: Stabat Mater
17-Oct, 20:00

Stadthalle, Kleve

Group:

Chorwerk Ruhr

Conductor:

Florian Helgath
Tenor soloist - B. Britten: War Requiem (highlights)
19-Oct, 19:30

Schloss Morsbroich, Leverkeusen

Group:

Bach Verein Köln

Conductor:

Thomas Neuhoff
NOVEMBER
EuropaChorAkademie - A.Dvorak: Requiem
12-Nov 11:00

Laeiszhalle, Hamburg

Group:

EuropaChorAkademie and Hamburger Symphoniker

Conductor:

Ion Marin
Chorwerk Ruhr - J.Brahms: Ein Deutsches Requiem
18-Nov 20:00

19-Nov 17:00

19-Nov 19:00

UNESCO Welterbe Zollverein Essen

Christuskirche Bochum

Philharmonie Mercatohalle Duisburg

Group:

Chorwerk Ruhr and Duo Accord

Conductor:

Florian Helgath
DECEMBER
Tenor Soloist/Evangelist - J.S. Bach: Weihnachtsoratorium
10-Dec 15:00

Keyserkerk, Middenbeemster, NL

Group:

TBA

Conductor:

Gerard Leegwater
Tenor Soloist/Evangelist - J.S. Bach: Weihnachtsoratorium
23-Dec 19:00

Geertekirche, Utrecht, NL

Group:

Passie Projecten

Conductor:

Madeleine Ingen Housz
Tenor Soloist/Evangelist - J.S. Bach: Weihnachtsoratorium
31-Dec 18:00

Friedenskirche Bonn

Group:

Sinfonie-Orchester der Kreuzkirche Bonn and Friedenskirche Kantorei

Conductor:

Johannes Pflüger
Repertoire
Oratorio Roles
COMPOSER
WORK
ROLE
J.S. Bach
St Matthew Passion
Evangelist and Arias
St John Passion
Evangelist and Arias
Weihnachts Oratorium
Evangelist and Arias
Oster-Oratorium
Simon Peter
B. Britten
St Nicolas
Nicolas
Rejoice In The Lamb
Tenor Soloist
C. Loewe
Das Sühnopfer des neuen Bundes
Pilatus/Tenor Soloist
G.F. Händel
The Messiah
Tenor Soloist
F.J. Haydn
Die Schöpfung
Uriel
A. Pärt
Passio
Tenor Soloist
C. Saint-Saëns
Oratorio de Noël
Tenor Soloist
J. Stainer
The Crucifixion
Tenor Soloist
Orchestral Masses
COMPOSER
WORK
ROLE
J.S. Bach
Mass in B Minor
Tenor Soloist
L. van Beethoven
Mass in C Major
Tenor Soloist
M.-A. Charpentier
Messe de Minuit pour Noël
Tenor Soloist
A. Dvorak
Mass in D
Tenor Soloist
J. Haydn
Paukenmesse
Tenor Soloist
W.A. Mozart
Requiem
Tenor Soloist
Coronation Mass
Tenor Soloist
Missa Brevis in B flat
Tenor Soloist
O. Nicolai
Mass in D
Tenor Soloist
G. Rossini
Petite Messe Solenelle
Tenor Soloist
F. Schubert
Mass in G Major
Tenor Soloist
Bach Cantatas and Lutheran Masses
Cantatas
2, 3, 4, 6, 7, 12, 19, 21, 23, 26, 31, 36, 42, 61,
76, 78, 80, 92, 93, 96, 100, 103, 104, 106, 112,
123, 126, 139, 146, 147, 148, 172, 180, 184
Lutheran Masses
234, 235
Opera and Operetta
COMPOSER
WORK
ROLE
B. Britten
Albert Herring
The Mayor
B. Smetana
The Bartered Bride
Vašek
G. Bizet
Carmen
Remendado
W.A. Mozart
Die Zauberflöte
Tamino
J. Offenbach
Pepito
Miguel
L. Bernstein
Candide
Charles Edward, The Crook
V. Lann
De Stilte van Saar
Psychiater
I. Stravinsky
Pulcinella (ballet)
Tenor Soloist
Contact
Telephone: +49 (0)179 607 4496